Suchitra Kushwaha:
CHID: 187618(RETIRED IN 2020)
Sub Project: Delhi – ALD
THE STORY OF GIRL AND HER INITIATIVE TOWARDS OWNING A BOUTIQUE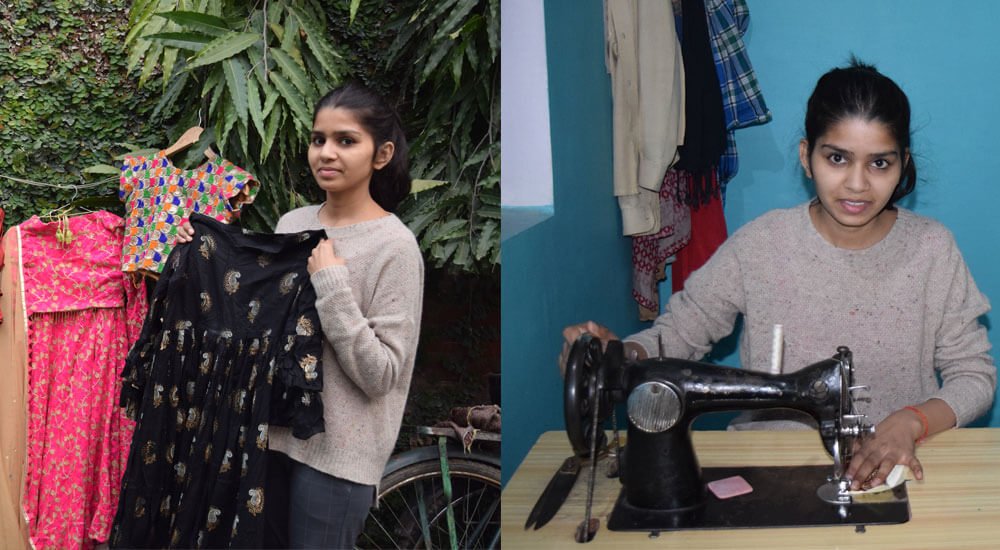 "A small business is an amazing way to serve and leave an impact on the world you live in."
Suchitra Kushwaha, a sponsored child of CFCA from sub-project ALD has come a long way. She became a part of CFCA family long back. At that time, she and her family was having a lot of financial crisis. Suchitra lives in a family consisting of 7 members including her mother who's a home-maker, father who's the only bread winner of the family, 4 sisters including herself, and a brother.Her elder sister is married now and other younger sisters are pursuing their education. Her brother is pursuing an ITI course.
Before joining CFCA program, her family's financial status was not stable enough to get their children educated. They were going through a lot of hardships due to their poor financial condition. Suchitra's father was struggling to have a stable income to earn a livelihood for his family members.
Despite having poor financial condition, best part was her parents have always been supportive for their children's education. Glimmer of hope came when Suchitra got selected for CFCA sponsorship program and the growth of her personal development started then and there only. Her father worked day and night as a tailor to fulfill the educational needs of his children. Her father used to say to his children "never stop putting efforts in getting education, always give your best and we will put all our efforts and work hard as a parent to fulfill all your educational needs".
Society continued to play its role by demotivating the family and cribbing about fulfilling the children's educational needs but Suchitra's family remained supportive towards their children and never came under societal influence. Suchitra continued to pursue her education even after completing her higher studies. She completed her schooling from Umrao Singh Memorial School and Mary Wanamaker Intermediate School, Allahabad. Further, she has completed her graduation in Bachelors in Arts (Sociology) from University of Allahabad. She has done post-graduation from the U.P. Rajashri Tandon Open University, Prayagraj in Masters in Arts (Sociology).
After completing her post-graduation, she developed her interest in fashion designing and discussed with her parents that fashion designing can be a good option for a livelihood and to start-up her own boutique in getting latest designer clothes to the clients. Her father was the biggest inspiration as he is a tailor by profession. Her parents supported her like always then she found out about a reputed institute of fashion designing.
Another intricate situation came up when they got to know about the fee details of the course. After Suchitra got selected for CFCA sponsorship, her mother became a part of Sponsored Mother's Group (SMG) and she knew about the loan program which was initiated by the SMG. So she took the loan for Suchitra's fees and got her admitted in Ruchi Institute of creative arts, Prayagraj. Now she is a holder of Diploma in fashion designing.
Soon after she completed her Diploma, she started her boutique at home with a sewing machine of her father. She started designing the dresses as per clients demand. Some relatives supported her by giving her initial orders of making clothes. She was also a part of Youth Forum, where she could learn about ways and creative ideas of enhancing her professional growth. Not only personal growth, but through the youth forum she became an example for other sponsored children as well.
Now she owns a small boutique at her home only and supports her family financially. Her father is not a skilled professional hence, he has a good hand in sewing simple clothes but Suchitra has a good hand in making designer clothes. Now she has a source of income generation through which she bearing her daily expenses and also paying fees for competitive exams. Now, it is a big relief for her parents and they are focusing on younger siblings educational development.
Suchitra and her family feels that CFCA\UNBOUND played a vital role in exhilarating Suchitra's passion and her family's development. They feel it has been fruitful being a part of CFCA and Youth forum family. Suchitra is a living example of achieving everything, if you are dedicated and passionate about it. Through the constant support of CFCA and her parents she completed her schooling, graduation, and post-graduation. She has not stopped yet, she knows that:
"There are five important things for living a successful and fulfilling life: never stop dreaming, never stop believing, never give up, never stop trying, and never stop learning." Roy Bennett.